Set up Kaeru Gallery on your 3DS or 2DS
If you have Flipnote Studio 3D on a 3DS family console (including 2DS), you can access Kaeru Gallery directly from your console. There's a bit of work necessary to prepare your console to accept our patch, but don't worry–it's fairly simple and easy.
Three steps to success
There are three main steps needed to use Kaeru Gallery on your system. More details are available below, if you need additional help.
If your console is already set up to use Kaeru Gallery, but you've seen a message telling you to update your patch, follow Step 2 to download the latest patch.
Step 1
Install Luma3DS custom firmware on your console.
Please note that we recommend you follow written tutorials, as video guides are often outdated.
Step 2
Enable game patching in Luma3DS settings.
Hold SELECT while turning your console on.
Use the D-Pad to highlight 'Enable game patching'.
If it isn't marked with (x), press A.
Press START to save.
Step 3
Download, unzip and copy our patch files to your console SD card.
You should merge the luma folder with the one already on the root of your SD card.
However, if asked to replace folders called 00040000000c6600, 00040000000c6700 or 0004000000056c00, you should do this.
Once done, open Flipnote Studio 3D. If you did everything correctly, you should see "Kaeru Team" on the top screen.
Europe / US: Press the Right arrow (→); above Settings and Exchange, select the option for "Kaeru Gallery" or equivalent in your local language - this should appear in place of the DSi Library feature.
Japan: Press the Right arrow (→) and select the option to open Ugomemo Gallery World / インターネットコミュニティ.
At the moment, the service itself is only provided in English, as we do not have translators. Please accept our apologies; this is something we will fix as soon as possible.
Get Flipnote Studio 3D
If you don't already have Flipnote Studio 3D installed from the eShop, you can get it for free. There's no need to pirate it - in fact, note that we are unable to support pirated copies at all.
Japanese users can search for "うごくメモ帳 3D" (Ugomemo / Moving Notepad 3D) on the Nintendo eShop or visit the Nintendo website: https://www.nintendo.co.jp/titles/50010000014919
European and Americas region users can redeem a download code from My Nintendo for 200 Platinum points (these can be obtained fairly quickly using the introductory offers):
Note: If you have previously installed a pirated copy, before replacing it with a legitimate version of Flipnote Studio 3D you'll need to remove it completely from your system, including its fake tickets. Follow our instructions under the 'Cleaning up pirated versions' section.
Step 1
To instruct Flipnote Studio 3D to connect to the Kaeru Gallery server, we must apply a patch to change the server address. Because of security measures on the 3DS console this can only be done after installing custom firmware patches from a project called Luma3DS.
Although it may seem difficult to set up, the process is now very easy and safe. A website called 3DS Hacks Guide (opens in new tab) will take you through the process. It is widely regarded by the homebrew community as the definitive guide to 3DS homebrew setup, and is written to be clear and simple. Once you've done that, return back here to continue with Kaeru Gallery setup.
Step 2
Once you have installed Luma3DS, you need to enable its "game patching" feature.
To access Luma3DS settings, hold the SELECT button while turning your console on.
Press the down arrow on the directional pad (↓) until 'Enable game patching' is highlighted, as shown. If it isn't enabled (indicated by (x) beside it), press the A button to enable it. Press the START button to save and continue booting.
Step 3
Now that you have configured Luma3DS, it's time to copy the Kaeru Gallery patch files. It's best to use a computer to do this, such as a Windows/Linux PC, Mac, or Chromebook, along with an SD card reader. (More technical users could use FTP, but we won't cover that here.)
First, download the latest patch files from https://kaeru.world/go/gallerypatch.
Unzip / extract the archive you downloaded, and put it somewhere you can find it easily.
Now copy the luma folder to the root of your SD card (e.g by dragging)
It should ask you to merge with the existing folder, created when you installed Luma3DS earlier; allow this.
Note: If you have trouble, go into luma → titles (create the titles folder if it does not already exist on your SD) on both the SD and within the downloaded Kaeru patch files, and manually copy over the three folders beginning 0004. Allow overwriting these if it asks; this just means you have an older version of our patch files already.
What's the 'root' of my SD card?
This means the base folder of your SD card, not within any sub-folders. You should find luma and Nintendo 3DS folders (among others) in the root of your SD, if you followed the previous steps correctly.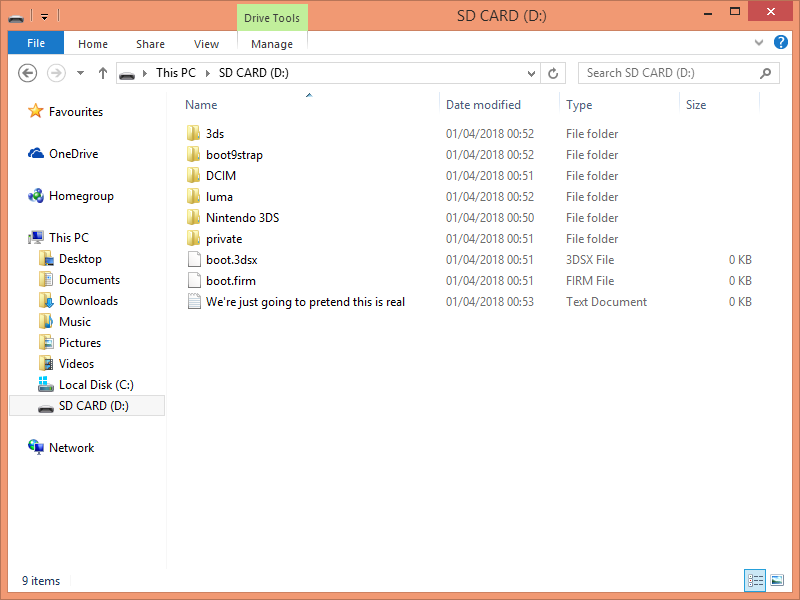 Troubleshooting
If you have problems installing Luma3DS, you may find the Nintendo Homebrew Discord community helpful: https://discord.gg/MWxPgEp
Otherwise, if you experience error codes or crashing, check the list below.
Error code 002-0110 (service discontinued)
If you receive an error with this code, or another one telling you that the service is discontinued, this usually means that the patches are not working correctly.
Make sure that you have enabled game patching in Luma3DS, as explained in step 2, and that you have copied the patch files correctly.
Failed to connect to the server, etc.
If you receive a system error popup but with no error code, this is often caused by using alternative DNS servers, such as for Sudomemo, Wiimmfi, or Kaeru WFC.
Try visiting https://gallery.kaeru.world in the 3DS browser; if you see the Kaeru Gallery website, your DNS should be fine. Otherwise, check your DNS settings in System Settings → Internet Settings, and try again.
This can also mean that the Kaeru Gallery server is currently unavailable, due to maintenance or other issues. Check the Kaeru Discord or contact us if issues persist.
ARM11 exception errors / black screen / closed unexpectedly
If you encounter a black-screen exception error when launching Flipnote Studio 3D, this usually means that the version you have installed is incompatible with our patches.
Kaeru Gallery patches are only compatible with the latest version of Flipnote Studio 3D as downloaded from the Nintendo eShop. Also, please make sure that you are using a legitimate copy, as pirated copies are often incompatible and we cannot support them.
Updating outdated versions of Flipnote Studio 3D
You must have a legitimate copy of Flipnote Studio 3D for this to work.
Open Nintendo eShop.
Tap on the menu at the top left and scroll to the bottom; choose 'Settings / Other'.
Scroll down again and select 'Redownloadable Software'.
Touch the button at the bottom of the screen labelled 'Your Downloads', 'Titles You've Downloaded', or equivalent.
Find Flipnote Studio 3D in the list and touch the 'Update' button to finish.
Cleaning up pirated versions of Flipnote Studio 3D
To install a legitimate version of Flipnote Studio 3D, you need to remove any trace of the old installation first, otherwise the download will fail with error 007-2920 (invalid licence). This will not delete your Flipnotes as we are only removing the application.
First, go to System Settings, choose Data Management, 3DS, Software, then select Flipnote Studio 3D. Delete it, then return to the HOME Menu.
Open the Homebrew Launcher and launch FBI. Select Tickets and find the entry for your Flipnote Studio 3D region:
Europe: 00040000000C6700
Americas: 00040000000C6600
Japan: 0004000000056C00
Do not delete any other titles. Accidentally deleting system tickets may render your console unbootable, requiring recovery through safe mode.
Press A to select it, then choose 'Delete Ticket'.